The pink beverage has significantly gained in popularity the last few years. Information company Nielsen revealed a 34% increase to $63 million in the rosé category the past 52 weeks (which ended May 23). Sales are growing globally, as rosé wines are overtaking red and white varietals in some countries. As summer arrives, consumer's taste for sweet and dry blush wine escalates. All the ranting about rosé has inspired us to create a list of the top pink wines that need to be in your restaurant.
2014 Ehlers Estate Sylviane Rosé 
Ehlers Estate can be found in the heart of Napa Valley, California. This Cabernet Franc Rosé varietal is made in a unique way that involves a Champagne pressing program, giving it a sparkling acidity. The winemakers mimic a French production method to make a rosé with an old-world feel. The tasting notes include "aromas of watermelon, raspberry and cotton candy mingle with orange sorbet and fresh red cherries. On the palate, the wine is crisp and dry with a sparkling acidity, low alcohol and a lingering lemon-berry finish."
2012 Miraval Rosé 
Yes, this is the wine produced by Hollywood's power couple Brad Pitt and Angelina Jolie. However, don't let the wine's connection to stardom deter you from considering whether or not to put this rosé on your menu. The winemaker describes the wine to have "delicate aromas of white fruits, just-picked strawberries and floral notes" along with tastes of raspberries, strawberries, herbs, citrus and stone. The wine is sweet, but has an acidity that comes from the high altitude of the Provence region in which the grapes are grown.
2014 Fort Berens Pinot Noir Rosé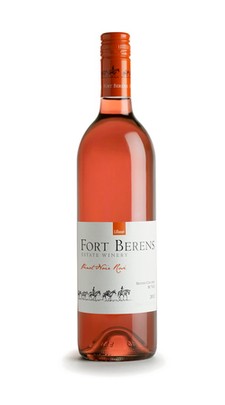 This rosé was crafted to reflect the Pinot Noir varietal from which it came. The British Columbia Winery is very particular during the production process, combining both the saignée and press method, letting the juice sit on the grape skins. The wine is fermented to dryness, allowing for the taste and aromas of strawberries and raspberries to peak though and linger.
2014 Mulderbosch Cabernet Sauvignon Rosé
Mulderbosch keeps rosé in mind when tending to their Cabernet Sauvignon vineyards. The grapes are picked early in order to make a highly acidic wine which gives it its character. The addition of yeast helps match the mineral taste with that of grapefruit and strawberry. Their early bottling strategy helps keep the flavors preserved and the wine fresh.
2014 Caves d'Esclans Whispering Angel Rosé 
This wine continuously appears on top rosé lists and has been praised by many popular press outlets such as the Wall Street Journal and Wine Enthusiast Magazine. This French wine is described as "charming, refreshing, refined, and with plenty of juicy, enticing, strawberry and berry fruit." The fruity flavor is complemented by earthy undertones. Its strong finish will make this wine one of your favorites.
https://www.uncorkd.biz/wp-content/uploads/2015/07/wine-791133_12801.jpg
853
1280
Carolyn
https://uncorkd1.wpengine.com/wp-content/uploads/2016/08/uncorkd-logo-vector_360.png
Carolyn
2015-07-10 13:29:35
2015-10-08 07:57:14
The Rosé Revival: Pink Wine on the Rise